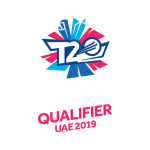 Share:
2019 ICC T20 World Cup Qualifier happening in the United Arab Emirates is scheduled from 18th October to 2nd November. The tournament is going to take place in a round-robin format between 14 International teams. 51 matches will be played in the Qualifiers and out of these, six teams that finish with the highest points will join Sri Lanka and Bangladesh in the first stage of 2020 ICC T20 World Cup. ICC World Cup T20 will be happening in Australia from October 18th to November 15th 2020.
The 14 teams playing in World Cup Qualifiers are divided into 2 groups- Group A and Group B. Group A comprises of Netherlands, Scotland, Singapore, Kenya, Bermuda, Namibia, and Papua New Guinea. Group B comprises of Canada, United Arab Emirates, Ireland, Oman, Jersey, Hong Kong, and Nigeria. Four matches will be played every day from 18th to 27th October, of which two matches between the Group A participants and two matches between Group B participants are played.
4 Qualifiers are scheduled on 29th and 30th October with the playoff for the fifth position scheduled on 31st October. Semifinal 1 and 2 are scheduled on 1 November 2019 and the playoff for the 3rd place is scheduled on 2nd November 2019. The Final will take place on 2nd November 2019.
All the fixtures will be live streamed on YuppTV in Continental Europe, South and Central America, Central Asia, SAARC Countries, Middle East, and southeast Asian Countries like Malaysia, Singapore, Japan, etc. The matches will begin from 11:30 AM IST with the subsequent matches of the day happening at 03:40 PM IST and 09:00 PM IST. Enjoy all the 2019 ICC T20 World Cup Qualifiers Live on YuppTV.