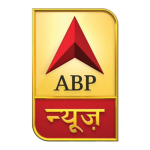 Share:
Share this video:
The anchor highlights some of the latest political, economic and social updates and stories from all across the country.
Watch ABP News Live, an Indian news channel owned by ABP Group. ABP News was earlier known as STAR News and was owned by a joint venture between News Corporation owned STAR TV/Fox International Channels.
YuppTV believes in providing globally enriching Indian News to its viewers around the globe. Watch ABP News channel from live news shows to the Breaking News, YuppTV is an innovative online TV platform which having Indian News TV channel for you. It is an ideal access to favorite and informative television content to millions of viewers. YuppTV is indeed flying high in the spirit of the 21st century, as it seeks to provide News TV content to millions of television viewers across the globe. The online TV platform at YuppTV is truly phenomenal, since it gives its viewers an excellent opportunity to view Latest Hindi News through the internet. If you want to watch your favorite Indian news, ABP News channel live, YuppTV delivers it to your place.
Convenience is an attribute that makes YuppTV a stand-out Indian News Channel provider. It is possible for viewers to catch up with the latest Indian news live through any internet-enabled device. By subscribing to a package of your choice, it is possible to get news update in abroad destinations. In addition, watching ABP News channel live is possible through YuppTV with the ease at which viewers can catch up with the latest news making headlines. YuppTV is certainly, an indication of its commitment to bring satisfaction and fulfillment to its views. Whether one is a news follower or a movies enthusiast, YuppTV ensures that everyone is catered for.
Despite the location of viewers, YuppTV ensures that time and distance are not hindrances to the effective broadcasting of live News. Professionalism and commitment are qualities that define YuppTV in the revolutionary age where-by information is the driving force of civilization. Undoubtedly, with YuppTV, quality is guaranteed.
Watch ABP News channel live at YUPPTV.