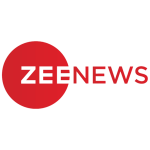 Share:
Share this video:
The host presents the latest news updates and developments from across the world, pertaining to health, society, politics and finance.
Zee News is an Indian News Channel and is a part of Zee Media Corporation. The channel has a beautiful tagline saying ``Soch Badlo Desh Badlo`` meaning ``Change your thinking to Change your country``. Zee News excels in providing the latest news in Hindi. The channel is very popular in both North and South Indian states.
Zee News is one of the fastest news channels in Hindi that brings you unbiased news from India and all over the world. The channel delivers News from Sports, Business, Cricket, Technology, Science and Environment, Lifestyle, and International News. Some of the interesting news programs in the channel are Daily News and Analysis, News 100, Morning Superfast, 8 PM Special, News 50, Aap ki News, Bollywood breaking, Fast n Facts, etc. It also has a special program to deliver News for Hearing Impaired.
Zee News started an initiative called Bharat Bhagya Vidhata concentrated on delivering news about important issues in Politics, Business and Civil society. The program conducts interviews with some of the important news makers and politicians and discusses about the serious issues in the country.
You can watch Zee News live on YuppTV from anywhere in the world. Zee News live TV is accessible through YuppTV Website from your laptop/ PC or Smartphone. You can also watch zee news online via any internet enabled device. YuppTV also allows Zee News live streaming via Android Smart TV through YuppTV App.