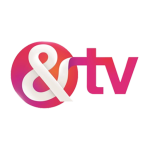 Share:
&TV is one of the best Hindi TV Channels owned by Zee Entertainment Enterprises. The channel was launched in 2015 and became one of the top Hindi Entertainment channels nationwide in a short span of time. The channel aired many popular tv shows like Sabse Shaana Kaun with Shah Rukh Khan, Gangaa, Agent Raghav Crime Branch, Santhoshi Maa, Yeh Kahan Aaa Gaye hum etc.
Some of the best shows currently running on this channel are Agnifera, Bhabhiji ghar par hai, Chupke Chupke, Bakula Bua ka Bhoot, Paramavtar Shri Krishna etc. The show promises diverse and dynamic mix of relatable fiction and high voltage nonfiction, events and block buster movies etc. The channel features both type of programs, programs which entertain the Indian household and the youth which became one of the key features in its popularization.
You can watch &TV Live using YuppTV from any country around the world. YuppTV makes it easy to access &TV Live on Smart Televisions. YuppTV application is also accessible on Smart phones and Tablets which enables &TV Live streaming online. &TV live streaming is also possible on PCs/ Laptops, Media Players, and Gaming consoles.