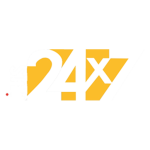 Share:
Jus 24X7 is the brainchild of Jus Punjabi, a Punjabi Centric entertainment providing channel based in the United States, which is the first ever Punjabi American TV station to broadcast the Sikh Day Parade live in the US. Jus 24X7 is a Hindi Entertainment channel launched along with 9X Tashan by Jus Punjabi post the success of Jus one, the first ever spiritual and religious content channel in America.
Jus 24X7 features many programs for the youth around the world in an effort to bring multiple cultures closer together and establish transparency using comedy. Some of the types of programs the channel telecasts are Sketch Shows, Stand up shows, Variety shows, Mockumentaries, Sitcoms, Musical Artistes, Short Films etc.
Programs like The Vibe, Band Stand, Stand Up- Jus 24X7 Comedy exclusive, etc., are the most popular on Jus 24X7 Live. Out of these The Vibe has earned much reputation and has a good following on YouTube and other social media platforms.