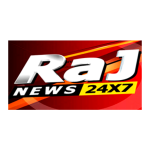 Share:
Share this video:
The host collates and presents some of the latest social, political and economic news updates and developments that matter to the people.
Watch Raj News 24X7 Live at YuppTV with High Quality. Raj News 24X7 is a Tamil 24 Hours News Channel from Raj Television Network.
Raj Television Network was started in 1994 to provide wholesome entertainment for the entire family. With programmes targeted at young and old, male and female alike, the Network has positioned itself as The People``s Channel.