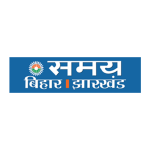 Share:
Share this video:
The host sheds light on the top stories of the day and discusses various aspects of them in a detailed manner with a panel of experts.
Samay Bihar is a Hindi regional news channel from the bouquet of Sahara Samay. Launched on January 14, 2005, the channel spans the widest spectrum of national and international news apart from every nook and corner of the two states.
Samay Bihar is the only 24-hour regional news channel in the state. The USP of the channel is that it acts as the ``voice of the people`` in the truest sense, by highlighting local issues and bringing it to the notice of the government nudging them towards a solution. It keeps the viewers of the two states updated with in-depth analysis of the events happening in and around Bihar and Jharkhand.
Watch Samay Bihar News Channel Live Online only at YuppTV.com