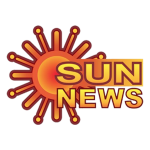 Share:
Reputable as one of the oldest Tamil News channels, Sun News is the most watched Tamil News networks in India. It is headquartered in Chennai and was founded by Kalanidhi Maran in 2000. Sun News is reputed for its swift and accurate delivery of News in Tamil for the Tamil audience all over the world. The channel covers News ranging from National and International to most rural areas in Tamil Nadu.
Many reputable Newscasters like Ravi Ganesh, Mahalakshmi, Sujatha babu, etc., Anchors like Rangarajan, Shiva Kumar, Malayappan, etc., host various shows giving the Tamil audience fastest updates on various issues. Sun News airs programs like Sun Speed News, Palsuvai Seithigal, Tamil Nadu Express, Sun Morning, TN Political News, World News, Doctor X, etc.
Tamil audience living in any part of the world can now watch Sun News Tamil Channel from all over the world on YuppTV. YuppTV made Sun News Live accessible from Smartphones, Smart Televisions, and any other internet enabled device through YuppTV App or the website.