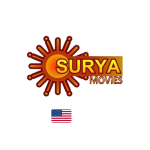 Pranchiyettan & The Saint
Live
Share:
Share this video:
While Pranchiyettan, a devotee of St. Francis of Assissi, attains the best of riches, he is unsatisfied with his reputation and sets off to popularise himself as a celebrity in society.
Surya Movies celebrates Malayalam cinema in all its glory. Bringing one of the largest content libraries of Malayalam movies, this channel appeals to all Malayalam movie fanatics worldwide. From films belonging to the golden era to the latest blockbuster releases, the channel promise to provide extraordinary entertainment content across genres delighting consumers across the globe.
Get ready to experience the magic of Malayalam movies, known for their realistic cinema that continuously experiments with contemporary themes and ideas. Watch your favorite Malayalam movies across genres live in the US region on YuppTV across all supported streaming devices.