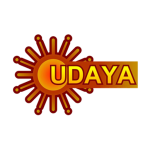 Kathe Chitrakathe Nirdeshana Puttanna
Live
Share:
Share this video:
The duo of an aspiring filmmaker and a businessman sets out to make a horror film based on true events from the former's life.
Watch Udaya TV is a #1 Kannada Language Television channel from Sun Network. Watch Udaya TV live with High Quality at Yupptv.com
Udaya TV Kannada is a regional Kannada language Indian cable television station. It is also the very first Kannada satellite channel in India. The channel is part of the Chennai based Sun Network of Tamil Nadu.
Watch Udaya TV Live Online with High Quality on yupptv.com
Udaya TV is available in United States, Canada, Australia, United Kingdom, Europe, New Zealand, Saudi Arabia, Qatar, Middle East and UAE.