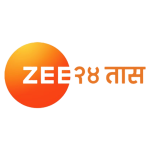 Share:
Share this video:
A presenter reports the latest regional, national and international news of the day and provides updates on current events.
Launched in the year 2007, the renowned and leading Marathi News Channel, Zee 24 Taas lives by its slogan â??Stay one step aheadâ?. The channel brings news from all over the world and showcases the stories that matter.
The channel is one of the most prominent sources of information for the Marathi speaking audience. It focuses on the regional news events and happenings from all corners of Maharashtra and it has informative segments like Morning News, Zatpat Batmya, Maharashtra 24 Taas, Speed News, Rokhthok, Zatpat 50, Aapla Jilha Aapla Batmi, and many more.
The channel covers sports news, entertainment news, national news, international news, and more 24*7. The channel also holds special coverage of important events and educates the audience by interviewing crucial personalities in varied fields. Apart from the serious news shows, the channel also provides information in an entertaining way, all the while covering important topics.
Watch Zee 24 Taas Live on YuppTV to stay updated with all the happenings.