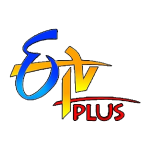 Share:
Share this video:
Chalaki Chanti performs in front of an audience in the studio showcasing his amazing sense of comedy, skits and jokes, creating a fun environment.
Watching Telugu TV Channels in abroad has become more easy now. Watch your favorite TV shows and movies of ETV Plus live and catch-up in abroad anytime, anywhere via YuppTV.
Don''t miss telugu entertainment wherever you are in the world, ETV Plus is a Telugu Entertainment channel, which broadcasts your favorite TV shows and movies all the time. With YuppTV, you can have access to the channel any time of the day.