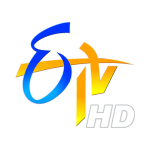 Share:
Share this video:
Prakash and Govind are best friends since childhood and are raised in the same house. However, trouble starts when both of them fall in love with the same girl.
As one of the early Telugu TV channels, ETV is a household name and needs no introduction. ETV has revolutionized Telugu entertainment with notable fiction and non-fictional shows and for introducing remarkable characters. ETV has entertained Telugu audiences since 1995 with movies, serials, and shows.
The channel has unfolded many stories and introduced a different world of fun and drama. ETV gave many memorable moments for the 90s kids. It mirrored the world to them, inspired billions, and taught them life. ETV has been pushing the boundaries by creating engaging and thrilling shows. The channel adds enough dose of drama and fun to kick start the day right.
ETV is credited for introducing some iconic shows. Laugh out loud and share smiles with Jabardasth, Extra Jabardasth, Jathiratnalu, Alitho Saradaga, Sridevi Drama Company, and more. Dance like no one is watching you when you watch the Dhee show.
Enjoy watching your favorite songs in Padutha Theeyaga and Swarabhishekam. Play along in Cash and Wow shows. Get access to cooking, devotional shows, and events. Explore a variety of ETV content on YuppTV now.