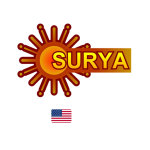 Share:
Share this video:
An entertainment-based programme.
Surya TV provides complete family entertainment and responds to the dynamic needs of its viewers offering a wide array of genres and brings the best of Malayalam entertainment with movies and TV serials. With stories that are relevant and engaging, Surya TV inspires generations.
Watch Surya TV US Live on YuppTV in the US and never miss your favorite movies and shows.