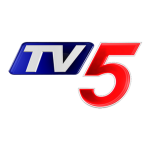 Share:
Share this video:
The show is a half-hour focused and in-depth analysis of the big story of the day, having the highest news value. It is about news as big as it gets.
Watch TV5 Telugu news channel 24X7 via YuppTV
YuppTV stands out among other Telugu news TV streaming services, you can watch free news on TV5 News Live on your PC, or choose the specialist YuppTV streaming Media Player as well as a host of other media devices like VizioTV, Amazon Fire TV, Nexus Player
TV5 is Available in United States, United Kingdom, Canada, Australia, Malaysia, Singapore, Europe, New Zealand, Japan, Saudi Arabia, Middle East, Qatar and UAE.