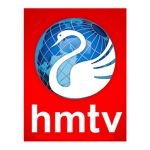 Share:
Share this video:
The host provides detailed information on the latest political, economic and social updates and developments making headlines around the state.
With a team of passionate journalists and reporters, HMTV is the most-watched Telugu TV news channel that delivers global news with unique programs. HMTV established itself as distinct from others and has hard news as a core offering. Responding to the diverse needs of Telugu viewers, the channel focuses on the culture, lingo, and events of Telugu states, the youngest Indian states. It delivers global news from every corner of the globe with greater speed, accuracy, and clarity.
The channel focuses on the socio-economic development of India and provides useful information on politics, sports, entertainment, the economy, weather, technology, and more. With detailed discussions and debates, the channel decodes complex information and presents it in an even simpler manner.
Resonating with its slogan "Vaartha Aagadu, Nijam Daagadu" which means truth cannot be hidden, HMTV brings news that made headlines across the world. Jordar Varthalu, Nela Thalli, and Dasa Disa are some of the prominent shows on the channel. It is widely acclaimed. The channel has constantly focused on issues like the girl child, building toilets in government schools, drinking water, etc. Unlike other popular channels, HMTV embraces fearless journalism and maintains its apolitical stance. Watch HMTV live on YuppTV whenever� and� wherever.