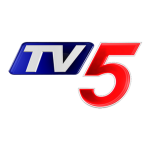 Deva Rahasham
Live
YuppTv
Share:
Share this video:
The host invites various experts from different fields to talk to them about their analysis of hidden secrets and mysteries.
Watch TV5 Telugu news channel 24X7 via YuppTV
YuppTV stands out among other Telugu news TV streaming services, you can watch free news on TV5 News Live on your PC, or choose the specialist YuppTV streaming Media Player as well as a host of other media devices like VizioTV, Amazon Fire TV, Nexus Player
Watch the latest news stories and current affairs to never miss out on trending events, live updates, and breaking news. Get ready to watch Top Story, Favourite 5, Nijam, Mass Mallanna, and other news editions to get all the top stories and breaking headlines in politics, business, entertainment, sports, and more. With nonstop news from regional, national, and world, the channel keeps you informed and ahead with everything happening. Enjoy watching 24*7 news on smartphones, smart televisions, laptops, and other internet-enabled devices.
TV5 is Available in United States, United Kingdom, Canada, Australia, Malaysia, Singapore, Europe, New Zealand, Japan, Saudi Arabia, Middle East, Qatar and UAE.