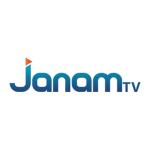 Share:
Share this video:
The host presents a series of interesting reports based on politics, sports, economics, culture and human-interest stories.
Popular news channel Janam TV live which broadcasts News and Entertainment programs came into existence very recently stating its aim as to promote the national interest. The channel was given a license by the Narendra Modi government to broadcast. It was launched in April 2015. Janam TV which literally translates to People TV is one among the most popular News channels in Kerala and has earned the name to be the fastest deliverer of News from Rural as well as the Urban sectors.
Janam TV features news with interesting names given to the programs like Varthapulari, Janam Tonight, Sanskrit News, Bakipathram, Erivum Puliyum, Vartha Neram, Vartha Vattom, etc., The channel also features entertainment shows that talk about Malayalam movies Ulladakam, Leaders favorite, and music programs like Music Fiesta, Sukhino etc. Other shows like Lifeline which includes interviews with Doctors and devotional programs like Bhagavathamrutham are also highly followed by the Malayalam Populace around the world.