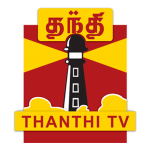 3 Mani Seithigal
Live
YuppTv
Share:
Share this video:
The host collates and presents some of the latest news updates and developments from across the nation that caters to the interests of the people.
Watching live coverage of Tamil News on Thanthi TV Tamil has now become easy.
Thanthi TV is a Tamil news Channel owned by Dina Thanthi, a Tamil Newspaper founded in 1942. The channel came into existence by taking over NDTV- Hindu, a news channel started by NDTV and Hindu group as Chennai city specific English News and Entertainment Channel. After the Dina Thanthi takeover, the channel is relaunched as 24-hour Tamil News channel broadcasting to the whole state of Tamil Nadu. Thanthi TV is known to cater the most accurate and up to date news of Tamil Nadu to Tamilians in India and across the world.
Thanthi TV is famous for its Exclusive interviews with some of the top national and international leaders like General Pervez Musharraf, Hina Rabbani Khar, Stephane Dujjaric, Rajitha Senaratne, Julian Braithwaite, Syed Akbaruddin, Silvya Cartwright, P Chidambaram, M Venkaiah Naidu etc. The Channel is also known for its extensive pre and post election poll surveys for the 2014 Parliamentary and 2016 Assembly elections. The results predicted by the combination of Thanthi TV and Krishna info media were the closest to the actual results.