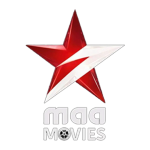 Share:
Unlock unlimited entertainment and say no to boredom when you watch nonstop Telugu films on Maa Movies. The channel brings recently released superhits, the latest blockbusters, old classics and cult films throughout the day. The vast content library makes Maa Movies the go-to destination for endless excitement.
Stream the best of Telugu movies that match your mood, as the channel always keeps your entertainment mode always on. With a wide range of films across genres and generations, Maa Movies is everyone`s favourite.
Check out Superhit First Show, Sayanthram Cinema, Mast Matinee Show, Hit Bomma and other engaging programs to experience uninterrupted enjoyment. Watch your favourite stars in action to relieve stress and recharge instantly.
Go on an emotional rollercoaster ride, laugh out loud, take a trip down memory lane and enjoy high-voltage action. What are you waiting for? Tune in to Maa Movies and brighten up your� mood� on� the� go.