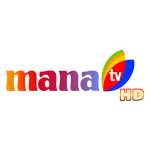 Program@19:30
Live
YuppTv
Share:
Share this video:
Mana TV is a Telugu entertainment channel of different categories, from news to entertainment. Talking about online television, YuppTV has emerged as one of the most popular names. We offers high quality picture and sound and most importantly, brings all the favorite TV shows for their clients. Be it regional movies, talk shows or reality shows; YuppTV has to offer everything to its viewers. For the Telugu audience, YuppTV has come with a separate section, which is Mana TV.
Mana is one of the favorite options for the Telugu community who can have access to all their favorite shows through this channel. They can watch Mana TV online and have access to their favorite channels 24/7.
MANA TV is Available in United States, United Kingdom, Canada, Australia, Malaysia, Singapore, Europe, New Zealand, Japan, Saudi Arabia, Middle East, Qatar and UAE.