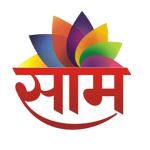 Viral Satya / Maharashtra Express
Live
Share:
Share this video:
The most recent video to go viral is presented followed by a discussion on why it has caught the public attention; the latest updates in political and socio-economic news in Maharashta.
Watch Saam TV Live with High Quality On YuppTV.
Saam TV is an Marathi entertainment TV channel run by Pune based media group Sakal in Marathi language. Saam TV programming primarily consists of family dramas, Cookery shows, News and Movies.