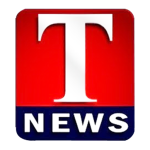 Share:
Share this video:
The host sheds light on the latest top stories and important developments taking place in the country and all over the world.
T News channel focuses exclusively on news, events, and culture of the Telangana region. T News channel brings up history, self respect of Telangana. Its slogan is Telangana Gunde Chappudu, meaning The pulse of Telangana.
T News is Available in United States, United Kingdom, Canada, Australia, Malaysia, Singapore, Europe, New Zealand, Japan, Saudi Arabia, Middle East, Qatar and UAE.