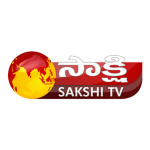 Share:
Share this video:
The host sheds light on top stories, latest happenings and recent updated from Indians living in different parts of the world.
Get all the latest information around the world throughout the day on your favourite Sakshi TV, available on YuppTV. The engaging programming lineup includes news bulletins, breaking news, live reports, exclusive interviews, detailed analysis, panel discussions, regular updates on weather and sports, business, entertainment, modern technology, the stock market and more. Started in 2009, Sakshi TV is run under Indira Television Limited and is promoted by YS Jaganmohan Reddy, the present Chief Minister of Andhra Pradesh.
The channel has been successful in grabbing the attention of youth with its gripping and enthralling content. Sakshi TV is applauded for embracing new technologies and changing conventional newsrooms.
Sakshi TV offers inclusive and invariant information around the clock. The channel presents live news as it breaks and brings important events as they unfold. With a huge network of experienced and enthusiastic reporters, Sakshi TV is synonymous with credibility and trustworthiness. Tune in to Sakshi TV and get all the latest updates.