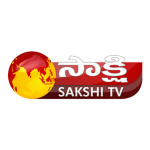 Share:
Share this video:
The host presents the latest regional and national news stories, major updates, key developments and happenings of the day.
Watch Sakshi TV News Channel Live for free
Wherever you moved to around the world from India, you can be sure to still catch the latest news concerning your home country free with YuppTV. Among other good channels, we air Sakshi news channel free which is actually one of the best streams that we offer currently. It``s a live news channel that broadcasts in Telugu. Every other content that comes through it is real-time and exciting. From Andhra Pradesh to Telangana, it serves as the most viewed local channel where people tune in to view news updates and other entertaining TV programs. Sakshi TV``s main agenda is to link the community and the government through broadcasting and creating a platform for discussion about government policies. For that matter, YuppTV is a wonderful place for you to keep up to date about what your national and local government is doing back at home. You can enjoy entertaining programs that are written in native Indian language as well. Overall, Sakshi TV channel live is enough to make you feel at home however far you might be from India.
Sakshi TV is Available in United States, United Kingdom, Canada, Australia, Malaysia, Singapore, Europe, New Zealand, Japan, Saudi Arabia, Middle East, Qatar and UAE.