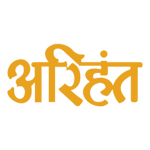 Pujya Bhaishri Rameshbhai Oza Live
Live
Share:
Arihant TV is a 24 hour Hindi language Jain Devotional Channel, offering the best of programs from the Jain Religion. The Arihant TV channel is owned by Vaidanta Group. The channel airs sermons from the Top Jain Religious Speakers like Pujya Vishuddh Sagarji, Pujya Niruben Amin, Pujya Gurudev Rakeshbhai, Pujya Bahenshree Champaben, Pujya Gurudev Namramuniji, Pujya Gurudev Shri Kanji Swami, etc. The channel also features several other prominent Devotional speakers from the Jain community.
Apart from this, the channel airs Bhajans and many other Jain Devotional programs like Jain Aarti, Jain Darpan, Jinalay, Uvashagram, Bhaktamer Stotra, Parsvanath Chalisa, Navkar Mantra, Seva Ganga- Sadhu Kailash Manav.
You can watch Arihant TV Live from anywhere across the world, via YuppTV. YuppTV allows Arihant TV live streaming to the users all over the world. All you need to do is subscribe and enjoy.