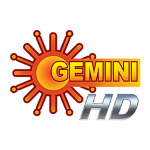 Share:
Gemini TV, a one-stop destination for wholesome entertainment is Telugu`s first private satellite channel. A part of the SUN TV network, the channel enjoys massive viewership for the last two and half decades for offering meaningful entertainment. With movies, reality shows, and remarkable serials, the channel offers next-level entertainment. As a pioneer in the Telugu entertainment space, Gemini TV has created pathbreaking characters and shows that entertained Telugu audiences and continues to do so.
With a wide range of programs across genres, the channel spreads happiness and scatters joy throughout the day. Gemini Tv has brought many stories to life that empower and encourage viewers, especially women to dream big, hope for a better tomorrow, and achieve the impossible. These light-hearted family dramas are not only rooted in reality but also struck a chord with the viewers.
The channel has been at the forefront of understanding the entertainment needs of Telugu households and brought several creative and innovative programs. Ever since its launch, the channel has curated vibrant programs that reflect the lives and culture of the Telugu people. Having known the needs of Telugu people, Gemini TV endeavors to bring content that the audience� would� love.