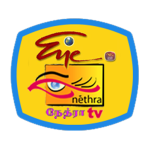 Share:
Share this video:
Entertainment-based programme.
Nethra TV is is a Tamil Language Television channel that continually strives to surprise its audience with something new and different, and is mainly run by SLRC in Sri Lanka. It has a wide range of channels ranging from Tamil news, comedy, serials, shows and music to sports and other documentaries.
To appeal a wide range of audience, Nethra TV brings to your home independently produced content that can be viewed in HD quality, from any part of the world. They consist of news channels, comedies and 24*7 music channels, that can be live streamed or downloaded for watching in a later time. Also, you needn``t worry of missing your favorite shows in your busy schedules, as Nethra TV lets you record them and watch when you get your free time. Also, it broadcasts a number of other talk shows, serials, comedy and documentaries like Kaveri, Azhagu Oviyam, Idhaya Sparsham and Samaiyal Gallery.