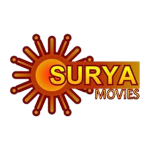 Ashokante Aswathikuttikku
Live
Share:
Share this video:
Ashokan falls in love with Aswathy, who is his classmate in college. However, Ashokan's brother disapproves of this relationship due to their caste difference.
Watch Surya Movies Live with High Quality On YuppTV.
Surya Movies is the Malayalam 24x7 movies TV Channel from Sun Network.
Surya Movies is available in United States, Canada, Australia, United Kingdom, Singapore, Europe, New Zealand, Saudi Arabia, Qatar, Middle East and UAE.