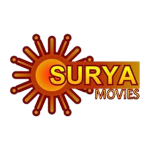 Share:
Share this video:
Parvathy, a devotee of Goddess Durga, struggles to run her family. Goddess Durga comes in the form of Parvathy's daughter in order to teach a lesson to all those who trouble Parvathy.
Watch Surya Movies Live with High Quality On YuppTV.
Surya Movies is the Malayalam 24x7 movies TV Channel from Sun Network.
Surya Movies is available in United States, Canada, Australia, United Kingdom, Singapore, Europe, New Zealand, Saudi Arabia, Qatar, Middle East and UAE.