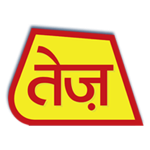 News Special / 2 Min 21 Khabrein
Live
Share:
Share this video:
The host presents the top 21 latest and important social, political and economic news stories and updates from around the world.
TEZ News channel was created by the India Today Group after many successful years of the Popular Hindi News Channel like ''AajTak'', they had decided to keep their main News Channel exclusively for Headlines and Urgent Reports while the targeted recorded shows were transferred to this new channel ''TEZ News''. Promoted extensively by most known celebrities, TEZ new channel has quickly become famous and serves as a medium for Horoscope Shows, other predictions, Educational and religious focused shows and aso some quick highlights of the main stream news reports.
Watch Hindi News channel TEZ News Live On Yupptv.com
Tez TV is Available in United States, Australia, United Kingdom, Canada, Malaysia, Europe, New Zealand, Japan, Middle East, Qatar, Saudi Arabia and UAE.