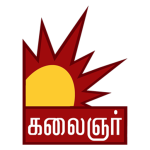 Share:
Share this video:
The host presents a compilation of the latest updates and developments pertaining to politics, sports, social and economic news.
Kalaignar TV is a Tamil-language satellite television channel.
Kalaignar TV one of the latest in the horizon of Tamil satellite TV''s entertainment and information genre is KALAIGNAR TV, on the fast track right from when it took off on September 15, 2007. In setting benchmarks, KALAIGNAR TV is in a league of its own, having launched seven channels catering to varied genres of infotainment for a global audience.
Kalaignar TV is Available in United States, Australia, United Kingdom, Canada, Europe, New Zealand, Saudi Arabia, Qatar, Middle East and UAE