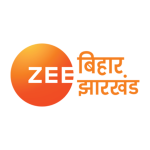 Share:
Share this video:
The host presents the latest regional and national news, updates and developments across the nation and provides information on current events.
Zee Bihar Jharkhand is a one-stop destination for those seeking a reliable news source to remain informed about current events in Bihar and Jharkhand. The channel brings you local news from Bihar and Jharkhand and establishes a connection between citizens and the government. Furthermore, the channel presents news on politics, business, technology, entertainment, Bollywood, and breaking news from India and around the globe. Viewers can remain up-to-date with the latest developments in these regions by tuning in to Zee Bihar Jharkhand. The channel's informative and constructive perspective on current events allows viewers to understand better the issues affecting Bihar and Jharkhand.
With a steadfast commitment to truthfulness, neutrality, and precision, the channel has built a reputation for delivering in-depth, reliable reporting from the ground. With an unwavering dedication to honesty and neutrality, the channel covers all the stories that matter. You can stay ahead of the curve with Zee Bihar Jharkhand for everything happening in these regions.