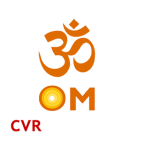 Maha Bharatham Lo Bhisma Pitha Maha-chaganti
Live
YuppTv
Share:
Share this video:
A religious leader delivers a discourse on the role of Bhishma, the grandfather of the Pandavas and the Kauravas, in the Mahabharata.
Watch OM CVR Telugu Spiritual TV Channel Live Streaming for free.
Wherever in the world you may be living now you can watch the leading Telugu religious channels through our live streaming services. Watch OM CVR online for religious related content; including morning prayers, devotional music, spiritual guidance from renowned gurus; and news of religious festivals, temples, and processions. Get the news from upcoming spiritual events at home from the most dedicated Telugu spiritual channel. Living in a foreign culture doesn``t have to become an obstacle for your spiritual development, get our services and enjoy the religious programming of OM CVR live.
OM CVR is Available in United States, United Kingdom, Canada, Australia, Malaysia, Singapore, Europe, New Zealand, Japan, Saudi Arabia, Middle East, Qatar and UAE.